Overview
Since 1985, the Sacramento Superior Court has provided Children's Waiting Rooms at their main facilities. These rooms provide child-centered play environments for both child witnesses and the children of customers who are engaged in on-site business with the court. The Children's Waiting Rooms offer children a safe, clean play environment in which to wait within a court facility.
The Children's Waiting Rooms are operated by the YMCA of Superior California, who is trained to interact positively with the children, making the children feel welcome and safe.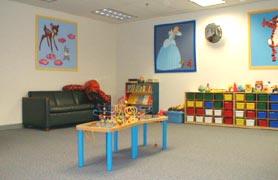 Services Available
A supervised play environment for children between the ages of 1 and 12 years (see specific information below)
A program that is offered to court customers at no cost
A clean, safe environment for children to visit while their parent/guardian transacts business with the court.
Children's Waiting Room Locations and Specific Information
The Court currently maintains Children's Waiting Rooms at all court locations: the Gordon D. Schaber Sacramento County Courthouse, the William R. Ridgeway Family Relations Courthouse, the Carol Miller Justice Center, and the Juvenile Courthouse. See specific information for each site below.
Gordon D. Schaber Sacramento County Courthouse
La Casita
720 9th Street
Room 211
916-874-6019
Hours: 8:30 a.m. to 12:00 noon; 1:00 p.m. to 4:30 p.m.
Ages: Children from ages 2 1/2 years to 12 years (toilet trained)
William R. Ridgeway Family Relations Courthouse
Playroom
3341 Power Inn Road
Room 111 (first floor)
916-875-3413
916-875-3412
Hours: 8:15 a.m. to 4:30 p.m., Mondays through Fridays (excluding court holidays)
Ages: Children from ages 1 year to 12 years
Carol Miller Justice Center
Kid's Korner
301 Bicentennial Circle
First floor, near the Traffic Unit
916-875-7716
Hours: 8:30 a.m. to 12:00 noon; 1:00 p.m. to 4:00 p.m., Mondays through Fridays (excluding court holidays)
Ages: Children from ages 2-1/2 years to 12 years (toilet trained)
Juvenile Courthouse
9605 Kiefer Boulevard
First floor near the elevators
916-876-9017
Hours: 8:30 a.m. to 12:00 noon; 1:00 p.m. to 4:30 p.m., Mondays through Fridays (excluding court holidays)
Ages: Children from ages 2-1/2 years to 12 years (toilet trained)