Friday, September 04, 2015
Court Bulletin
2014-2015 Grand Jury Issues Final Report
The 2014-2015 Grand Jury Final Report covers four investigative reports, a review of Sacramento County's correctional facilities required by the California Penal Code, and a discussion of the responses filed as a result of findings and recommendations included in the 2013-2014 Grand Jury report.
The Final Report is available on the Sacramento County Grand Jury - external link website.
Fee Schedule Update Effective 04/01/15
See the fee schedule for the fee increase to convert electronic recordings to compact disc.
Public Notice
Fee Increase for Duplicating Electronic Recordings
Read the public notice for more information.
Limited Access to Electronic Documents in Family Law Cases Effective January 20, 2015
Read the public notice for more information.
Veterans Treatment Court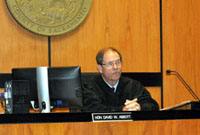 Veterans Treatment Court (VTC) is a new Sacramento County collaborative court presided over by the Honorable David W. Abbott in Department 39. This pilot court is a collaboration between law enforcement and community treatment providers. The goal of this pilot program is to offer veterans of the United States Armed Forces a comprehensive, treatment-based alternative to incarceration for non-violent criminal offenses.
Each veteran who qualifies and is willing to enter VTC will participate in treatment, counseling, and various other services for a period of 12 to 18 months. In addition, each veteran will be assigned a mentor, who is also a veteran and understands the issues that veterans experience. Mentors will be matched to each veteran participant and will serve as a coach, advocate, and source of support. Upon successful completion of the program, the majority of veterans will have the charges against them dismissed.
Veterans Treatment Court is the newest collaborative court program in Sacramento County in addition to Drug Court, Community Realignment Re-entry Court, Loaves & Fishes Court, Mental Health Court, and Violation of Probation (VOP) Court.
One Day Divorce
Sacramento Superior Court announces a new program to help cooperating couples, or single parties whose spouses have defaulted, to complete a simple divorce in one day. After the initial filing and serving of the petition, unrepresented litigants can attain a fast, affordable and most important--a fair resolution of their simple divorce.
In a time when budget cuts are forcing courts all over California to limit services to the public, judges and court professionals from the Sacramento Superior Court are leading efforts to innovate improvements to the administration of justice in Family Law.
Judge James Mize of the Sacramento Superior Court has created the first "One Day Divorce" program in the state. Family Law attorneys and law students volunteer to help litigants through the one-day process. The first step is for litigants to sit down with one or more pro tem judges who discuss the terms of the couple's proposed agreement. The next step is accomplished with help from law students and your attorney volunteers. Finally, if all the formal documents are completed and if the pro tem judges have approved the case for One Day Divorce treatment, the parties appear in the courtroom of Judge James Mize who will grant the appropriate relief. In 95% of all cases, the parties leave the courtroom with the final and formal documents in their hands and nothing else left to be done to obtain their judgment of dissolution or legal separation.
In California, 72% of family law litigants do not have lawyers. Simple divorces are complicated for self-represented litigants and, as a result, many cases languish in and congest the court system for months and even years. One of the biggest complaints about courts, and family courts in particular, is that the process takes too long to complete. The "One Day Divorce" program was created to help solve these problems.
To date, this program has only been offered as a pilot project for a limited number of litigants from court-based referrals. Since the pilot program began in December 2012, 25 cases have been successfully resolved.
Litigants participating in the program during the pilot phase had plenty to say about the experience. "I always had the feeling that the system was out to get me. Today the system was actually working for me," said Jason S., who made his first filing for divorce three years ago. Frustrated after having his paperwork rejected and not knowing how to proceed, he and his spouse discontinued the divorce process while living separate lives. Through the "One Day Divorce" program, he and his spouse spent one day in court getting the necessary assistance with their case, then left the same day with a signed judgment that meant their divorce was finalized.
Another participant, Aaron M. indicated "the lawyers made the process a lot more effective. No more time off work, back and forth to court. Just flat out GOT IT DONE." John G. commented, "This class took away my stress of dealing with this by myself. Thank you guys very much."
Based on the success of the program thus far, Judge Mize has announced that the "One Day Divorce" program will "go live" on April 12, 2013 at the William R. Ridgeway Family Relations Courthouse. Visit the One Day Divorce Program web page for more information on how you can be a part of this history-making program.
Daily Trial Calendar
The Sacramento Superior Court's Daily Trial Calendar provides the case name, the judge assigned to the case, the department and floor location, and the case type. The calendar is updated and published daily.
Civil Self-Help Center
The Civil Self-Help Center provides workshops and individual assistance with a variety of civil legal issues. There are no income requirements to receive the free services. For more information, visit the Civil Self-Help Center - external link web page.
The Civil Self-Help Center is located in the Sacramento County Public Law Library, 609 9th Street, in downtown Sacramento.
Court Tip
If you are sued, do not ignore the paperwork and think it will go away. If you ignore a lawsuit and file nothing with the court in response to the suit, your failure to respond could result in a default judgment against you. If a default judgment is entered against you, you may be required to pay a sum of money to the person who sued you. It is always a good idea to consult a lawyer if you are sued, but always respond if you receive any kind of court document.
Court Services
Visit the Court Services page for locations and phone numbers.