General Information
Civil Self-Help Services (SHS) helps people without lawyers who have questions about simple issues related to a civil case. We can give you general information and help you prepare your own forms in the area of civil law. There is no fee for the help given at SHS.
Services Available
Civil Harassment Restraining Orders
Petitions for Change of Name / Gender Marker
Form review before filing.
Help with copying, assembling, and filing documents.
Claims of Exemption
Help with motion practice– setting or reserving hearings, deadlines for responsive and reply pleadings, and tentative ruling procedure.
Asking and answering discovery.
Information regarding basic civil procedure.
Service of documents by mail. (you provide postage)
Expungement
SHS Cannot Help With:
Family Court issues such as divorce, child custody, or support.
Domestic Violence Restraining Orders
Elder Abuse Restraining Orders
Probate matters.
Unlawful Detainer or Small Claims matters.
Criminal cases
Complex civil litigation
Medical or legal malpractice
Any matter where you are represented by an attorney.
Appeals
Location
SHS is in the Hall of Justice Building at 813 6th Street, Room 117, First Floor, two blocks west of the Gordon D. Schaber Sacramento County Courthouse.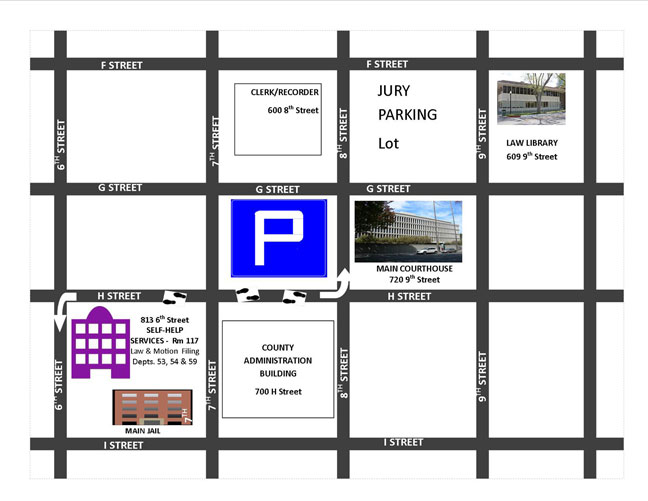 Hours
SHS provides in-person, telephone, email, and Zoom assistance. Masks are not required, but strongly encouraged in court facilities.
| MON | TUE | WED | THU | FRI |
| --- | --- | --- | --- | --- |
| 8:30 AM - Noon | 8:30 AM - Noon | 8:30 AM - Noon | 8:30 AM - Noon | 8:30 AM - Noon |
| 1:30 PM - 4:00 PM | 1:30 PM - 4:00 PM | 1:30 PM - 4:00 PM | CLOSED | 1:30 PM - 4:00 PM |
Hours may change based on staff availability. SHS will be closed on all court holidays.
Contact Us
You can use the form below or call us at (916) 874-1421**.
It is our goal to respond to any requests within two working days.
**Civil Self-Help Services provides legal information and assistance to self-represented parties. We assist with civil harassment restraining orders, name changes and gender changes, and general civil procedure filing a complaint, responding to a complaint, and law and motion. We provide information regarding court forms, rules and procedures. We help parties to start their case or determine the next steps in their case. All services are free of charge.